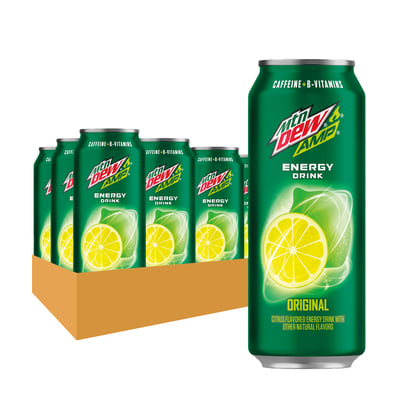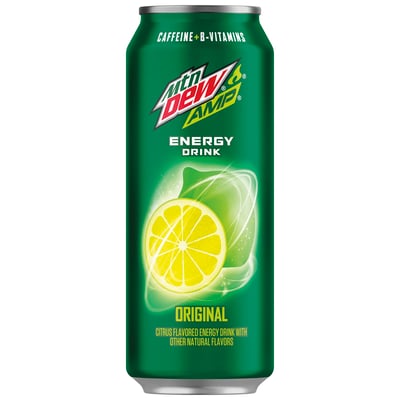 Double-tap or pinch image to zoom.
Amp Energy Original Citrus Energy Drink 16 Fl Oz 12 Count Cans
Our price $21.59
Quantity
Overview
Whatever you do, we've got your back. Mountain Dew Amp Energy is your new teammate. We'll help you crush that afternoon slump. With AMP Energy, you'll get enough flavor and energy to stand up and debate your professor. Matter of fact, here's a brain-busting philosophy question: why sacrifice flavor for energy when you can have both?
Product & Nutritional Information:
For further nutritional facts & ingredients please reference this link.
Details
Experience the bold charge and citrus flavor of original AMP
At MTN DEW AMP ENERGY, we believe that energy drinks should taste great; They should energize your taste buds as well as your body
142 milligrams of caffeine per can
Includes twelve 16 oz cans
Brand: N/A
Ingredients/Material: Carbonated Water, High Fructose Corn Syrup, Citric Acid, Concentrated Orange Juice, Natural Flavor, Guarana Seed Extract, Sodium Benzoate (Preserves Freshness), Sodium Hexametaphosphate (To Protect Flavor), Caffeine, Gum Arabic, Niacinamide (Vitamin B3), Ascorbic Acid (To Protect Flavor), Taurine, Calcium Disodium Edta (To Protect Flavor), Riboflavin (Vitamin B2), Calcium Pantothenate (Vitamin B5), Panax Ginseng Root Extract, Brominated Vegetable Oil, Yellow 5, Pyridoxine Hydrochloride (Vitamin B6), Natural Apple Extract (Color), Cyanocobalamin (Vitamin B12), Blue 1.
Size/Weight: 13.25x10.25x7.5 in
Shipping and Returns
Free Standard Shipping Over $20 on all orders with most orders arriving in 2-4 business days.
Delivery times may vary, especially during peak periods. Unfortunately, we don't currently ship to Alaska or Hawaii.
Returns and Issues:
All sales are final, we do not offer any refunds or returns. Please contact us to let us know if you have any issues or concerns with your Pantry Shop order.