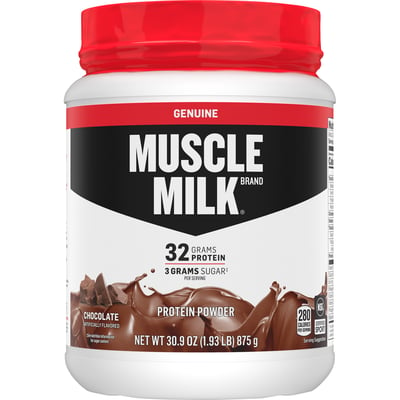 Double-tap or pinch image to zoom.
Muscle Milk Protein Powder, 1.9lb
Our price $21.00
Quantity
Overview
MUSCLE MILK provides products that amplify your lifestyle and help you become STRONGER EVERYDAY. You know your body. You care about what you put in your body. You know your body needs protein. You recognize that protein isn't just about muscles, intense workouts or something only found at the gym. Protein is a fundamental to help you live and perform better. MUSCLE MILK protein is expertly formulated with high-quality ingredients and key nutrients. All MUSCLE MILK Protein Powder products are NSF Certified for Sport, ensuring that they are safe and free of banned substances.
Product & Nutritional Information:
For further nutritional facts & ingredients please reference this link.
Details
Brand: Gatorade
Ingredients/Material: Muscle Milk Genuine Protein Powder Chocolate Ingredients: Whey Protein Concentrate (Milk), Calcium Sodium Caseinate (Milk), Milk Protein Isolate, Soluble Vegetable Fiber, Non Dairy Creamer (Sunflower Oil, Maltodextrin, Sodium Caseinate [A Milk Derivative], Mono- and Diglycerides, Tocopherols), Alkalized Cocoa Powder, Maltodextrin, Canola Oil, Medium Chain Triglycerides, Organic Oat Fiber, Natural and Artificial Flavors, Calcium Phosphate, Less than 1% of: Potassium Chloride, Magnesium Oxide, Acesulfame Potassium, Ascorbic Acid, Sucralose, Enzyme-modified Cocoa Butter, Lactoferrin (Milk), Cholecalciferol, Vitamin A Palmitate.
Size/Weight: 5.625 x 5.625 x 7.8
Shipping and Returns
Free Standard Shipping Over $20 on all orders with most orders arriving in 2-4 business days.
Delivery times may vary, especially during peak periods. Unfortunately, we don't currently ship to Alaska or Hawaii.
Returns and Issues:
All sales are final, we do not offer any refunds or returns. Please contact us to let us know if you have any issues or concerns with your Pantry Shop order.