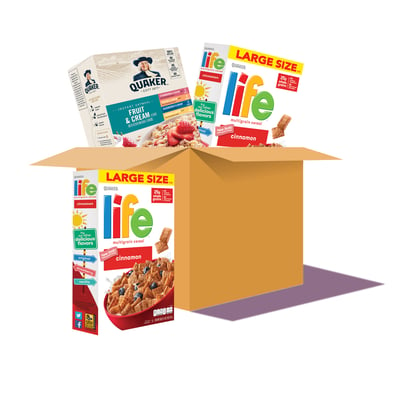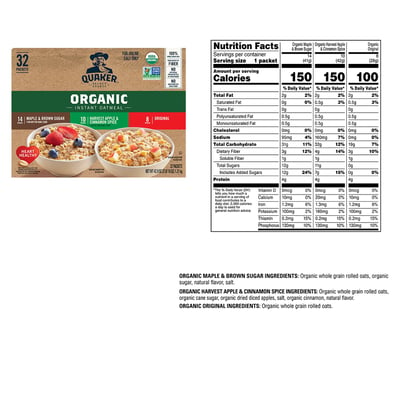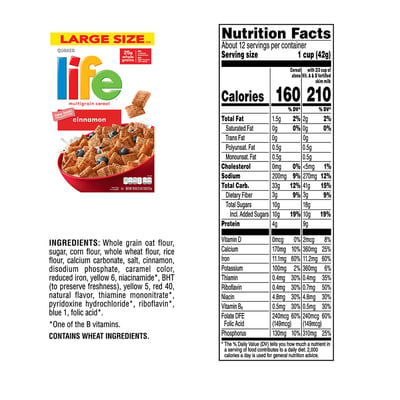 Double-tap or pinch image to zoom.
Rise & Shine Mini
Our price $13.95
Quantity
Overview
We put together this collection of family favorites to help make mornings a little easier and get the family gathered around the table. Includes everything below:
Quaker Organic Instant Oatmeal Variety Pack, 32ct
2X Life Cinnamon Cereal, 18 oz 1ct,
Product & Nutritional Information: Please see HERE for Quaker, HERE for Gatorade, and HERE for Frito-Lay product information.
Details
Life Cinnamon Cereal, 18 oz, 2 ct Life cereal is the crunchy, delicious choice that everyone in your family will love—including any fussy eaters in the house. You know who we're talking about. Each tasty square is made with whole grain goodness so you can savor the sweet moments that bring your family together.
Made with sweetened whole grain Quaker Oats
Cinnamon you can see
Quaker Instant Oatmeal Fruit & Cream Flavors Variety Pack, 18ct How could you possibly choose between the tastes of strawberries, peaches, blueberries or bananas? Why not have them all with Quaker Instant Oatmeal Fruit & Cream Variety Pack. Quaker has blended each of these delicious flavors with the rich taste of cream and given their oats a fruity kick your taste buds will love. Now, which one will you have today?
5x Quaker Instant Oatmeal Strawberries and Cream flavored Packets
5x Quaker Instant Oatmeal Peaches and Cream flavored Packets
4x Quaker Instant Oatmeal Blueberries and Cream flavored Packets
4x Quaker Instant Oatmeal Bananas and Cream flavored Packets
Made with 100% whole grain Quaker Oats
Brand: N/A
Ingredients/Material: Quaker IQO Fruit & Cream Ingredients: Whole Grain Rolled Oats, Sugar, Creaming Agent (Maltodextrin, Sunflower and Palm Oils, Whey, Sodium Caseinate), Flavored and Colored Fruit Pieces (Dehydrated Apples [Treated With Sodium Sulfite To Promote Color Retention], Artificial Peach Flavor, Citric Acid, Annatto [Color]), Salt, Calcium Carbonate, Guar Gum, Artificial Flavor, Niacinamide*, Vitamin A Palmitate, Reduced Iron, Pyridoxine Hydrochloride*, Riboflavin*, Thiamin Mononitrate*, Folic Acid*. *One Of The B Vitamins Contains Milk Ingredients. Life Cereal Ingredients: Whole Grain Oat Flour, Sugar, Corn Flour, Whole Wheat Flour, Rice Flour, Calcium Carbonate, Salt, Cinnamon, Disodium Phosphate, Caramel Color, Reduced Iron, Niacinamide*, Zinc Oxide, Yellow 6, Bht (A Preservative), Yellow 5, Thiamin Mononitrate*, Red 40, Riboflavin*, Pyridoxine Hydrochloride*, Natural Flavor, Folic Acid*, Blue 1. *One Of The B Vitamins Contains Wheat Ingredients.
Size/Weight: 10x10x10
Shipping and Returns
Free Standard Shipping Over $20 on all orders with most orders arriving in 2-4 business days.
Delivery times may vary, especially during peak periods. Unfortunately, we don't currently ship to Alaska or Hawaii.
Returns and Issues:
All sales are final, we do not offer any refunds or returns. Please contact us to let us know if you have any issues or concerns with your Pantry Shop order.