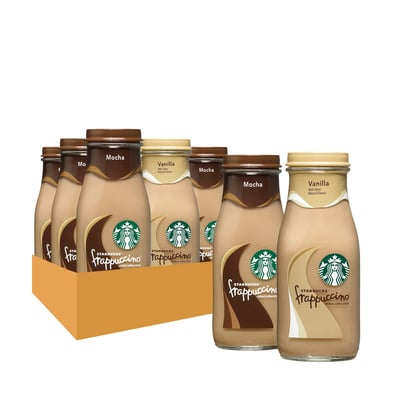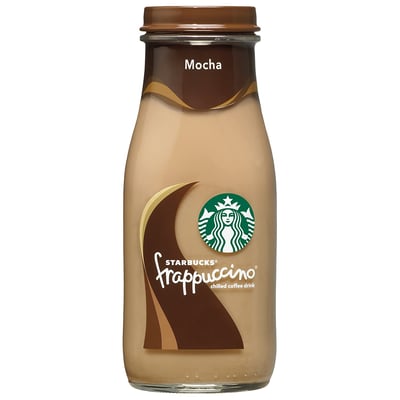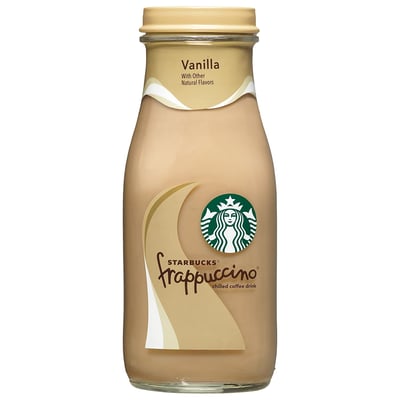 Double-tap or pinch image to zoom.
Starbucks Frappuccino Variety Pack 9.5 Fl Oz 15 Ct Bottles
Our price $27.00
Quantity
Overview
You'll fulfill your coffee daydream with our Frappuccino® coffee drinks, a creamy blend of the finest arabica coffee and milk, swirled together with decadent flavors.
Details
Enjoy this two-flavor variety pack with Mocha (9 bottles) and Vanilla (6 bottles).
Made with the finest arabica beans.
A creamy blend of coffee and milk, mixed with divine flavors.
Glass bottles.
Includes fifteen 9.5 oz glass bottles.
For further nutritional facts & ingredients please reference the link here and here.
Brand: N/A
Ingredients/Material: Starbucks Frappuccino Mocha: Brewed Starbucks Coffee (Water, Coffee), Reduced Fat Milk, Sugar, Cocoa, Pectin, Ascorbic Acid. Starbucks Frappuccino Vanilla: Brewed Starbucks Coffee (Water, Coffee), Reduced Fat Milk, Sugar, Maltodextrin, Pectin, Natural Flavors.
Size/Weight: 7.335x12.225x6.048 in
Shipping and Returns
Free Standard Shipping Over $20 on all orders with most orders arriving in 2-4 business days.
Delivery times may vary, especially during peak periods. Unfortunately, we don't currently ship to Alaska or Hawaii.
Returns and Issues:
All sales are final, we do not offer any refunds or returns. Please contact us to let us know if you have any issues or concerns with your Pantry Shop order.